A metal detector enthusiast went above and beyond the call of duty after unearthing a soldier's bravery medal washed up on a beach.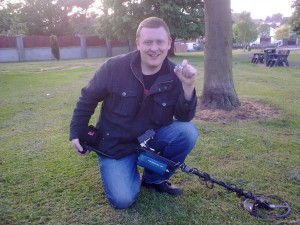 Stephen Hunter, from Killygordon, knew he had found something special when his metal detector signalled as he was combing sand at Rosses Point in Co Sligo.
But little did he realise that his find would bring him on an adventure that would end 500 miles away.
The little medal found by Stephen, 28, turned out to be a Silver War Badge, which was presented to soldiers who left the army after being injured during World War I.
But with only a regimental number to go on, Stephen had an uphill task trying to find its owner.
He contacted some friends who are also keen metal detector enthusiasts and together they began weeks of detective work that would eventually lead them to Buckinghamshire in England.
He told Donegaldaily "We had to cross reference a lot of stuff like army records, birth certs and marriages certs but we eventually got their in the end.
"It was a great adventure but it was all worth it in the end to reunite the medal with Edward's family," he said.
Edward, it turned out, was Edward Lewis Brunswick, a former soldier who joined the British Army aged just 15 who was forced to leave on medical grounds just two years later aged 17.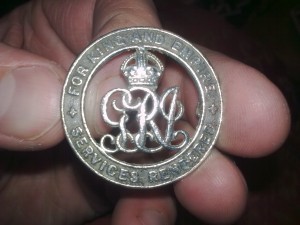 Unfortunately he died in 1975 but his son Roy, now 86, was left speechless after hearing how his father's medal had been washed up on a beach in the north west of Ireland.
How the medal ended up six inches below sand on Rosses Point remains a mystery as Edward never visited Ireland.
Finder Stephen, who works as an Audiologist at Dundonald Hospital in Belfast, said there could be a couple of explanations.
"I can only think that someone took it and lost it in Sligo. That's or it was put in a bottle which was washed up on the beach at Rosses Point. It's too heavy to float. I guess it will always be a mystery," he said.
Stephen says although Roy was delighted to have his dad's medal back, he admitted that his late father rarely spoke about his time in the army and doesn't know the medical reason why he left.
As well as being happy with being able to return a piece of someone's history, Stephen says he hopes the episode shows that not all metal detector users are simply on the look-out for treasure.
"I love going out with my metal detector but to be honest I rarely find anything. I once found a six pence that was dated 1885.
"I just love being out in the fresh air and getting a walk although it's great when you think you have found something.
"I want people to know that most metal detector users are very responsible and don't go around and trespassing on people's lads and digging it up," he said.
Ends
Tags: