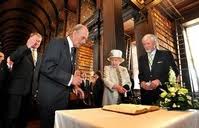 PRINCE Philip paid a secret visit to Buncrana with his Navy friends half a century ago, it was revealed today.
Derryman Ian Piggot said the prince had been in the city in the late 1940s or early 1950s for a training course at the British navy base which was there at the time.
"It was well-known the prince and a couple of other officers went down to Buncrana and had a meal in Green Bay Restaurant," said Mr Piggot.
"I was at sea at the time and when I came home on leave my mother was full of this story. She was so impressed she had to get down and have afternoon tea in the same place. My mother was a big Royal fan."
Philip – known for his verbal howlers – had people in stitches during a function in Dublin yesterday when Irish dancers put on a display.
When asking about Irish dancing, he told one boy: "Well it beats jogging, doesn't it?"