A LEADING Garda had told anti-drugs campaigner PJ Blake that foreign gangs are not behind the alarming rise in drug finds in Donegal.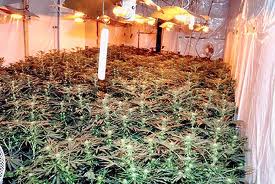 In recent months a total of €900,000 in cannabis has been found after raids on cannabis factories in Carrigans, Stranorlar, St Johnston and Buncrana.
A number of foreign nationals were arrested in connection with two of the raids.
Former Letterkenny councillor PJ Blake said he was convinced drugs gangs are now operating factories in Donegal and appealed to the public to be vigilant.
He said cannabis, cocaine and heroin was now freely available across the county.
However Inspector Pat O'Donnell said he disagreed that foreign gangs have taken hold in Donegal and are now running drug rings here.
"There may have been foreign nationals involved but that does not mean that there are foreign gangs operating here," he said.
Both men agreed however that the public must be vigilant to the scourge of drugs and to be aware of anyone using rented premises to grow drugs.
Ends