A Donegal lecturer, who is based in Dublin, has launched a campaign to save the Derry to Dublin air route.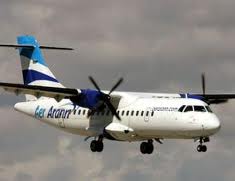 The route is set to be axed on July 21st when Aer Arann pull out of the route after claiming it is simply not profitable.
However business lecturer Patricia Doherty has now launched a campaign looking for another airline to take over the route.
Ms Doherty, who now lives in Derry, commutes to Dublin using the airline to work at Blanchardstown Institute of Technology where she is head of business.
She said "We cannot allow the route to be pulled. A lot of people depend on it on a weekly basis. Surely there is an alternative to simply pulling the route."
Tags: