http://www.youtube.com/watch?v=qbxJKxdmH0w
Celtic forgot about their disappointment at not winning the league after easily brushing aside Motherwell 3-0 to win the Scottish Cup.
It's the club's first trophy since 2009 and Neil Lennon's first as manager.
Goals from Ki Sung-Yeung, Charlie Mulgrew and an own goal by Motherwell captain Stephen Craigon gave Celtic the silverware.
"We've had a great season and fell short in the championship, but this is a fitting end," said Lennon
"I'm delighted for everyone associated with the club. It's an important day. The performance today merited it."
A sensational 32nd minute strike from Ki Sung-Yeung was enhanced by Mark Wilson's deflected shot and an inch-perfect Charlie Mulgrew free-kick five minutes from full-time to hand Lennon his first silverware in charge of Celtic.
The Co Armagh man was proud to claim a trophy in his debut season, despite the disappointment of narrowly losing out on the league championship to Rangers last week.
"It's the first trophy for a few years and the players deserve it – so do the supporters," said Lennon.
"Motherwell did very well and made a great contribution to the final, but we were superb.
"We were a bit too clinical at times and tried to walk the ball into the net at times.
"You can't deny the quality in the squad, and it manifested itself again today."
A turbulent season for Lennon was rounded off with the news from the club's majority shareholder, Dermot Desmond, that a long-term contract would be forthcoming in the next few days.
"I hope so," said Lennon. "It's a great privilege and Mr Desmond has been very good to me in my time as manager so far.
"Even in my time as a player, he gave me great counsel throughout the season.
"For all Celtic supporters out there, he's a huge Celtic fan and he has the best interests of the club at heart.
"He was as disappointed as anyone with the way the season ended, so I hope he's enjoyed himself today."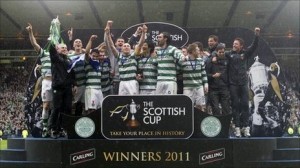 Celtic's squad were also praised by Lennon and he pledged to bolster the playing staff and maintain a free-flowing style of play next season.
"We love the game, we try to entertain and we try to win with a bit of style," said Lennon.
"It doesn't always get you over the line – but if we keep playing and strengthening the squad in a few areas, we're not too far away from having a very good team.
"We'll sit down and look at some options and identify players – whether we get them or not is another thing.
"But the players we've brought in are great – they've all made a huge contribution to the season."