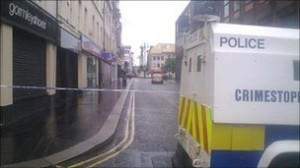 A DONEGAL mum of two last night vowed to 'never return to Derry' after witnessing bomb blast chaos in the city yesterday.
The Letterkenny woman was speaking after dissidents chucked a bomb inside a bank before running off.
"It was utter madness," said the mum, who saw the chaos in the Diamond area of the city centre yesterday afternoon.
"We all thought we'd left this sort of thing behind but the way these boys are going on, it's only a matter of time before the slaughter innocents. There will be another Omagh."
The bomb was thrown into the Santander bank around 12.3opm and exploded under an hour later.
PSNI Chief Inspector John Burrows said "there was sheer panic" when the bomb, contained in a hold-all, was thrown.
"There were young children who had to be evacuated. People could have been killed when this explosion went off," he said.
The attacked saw shoppers leave the city centre in their droves.
SDLP Foyle MP Mark Durkan said he was "deeply angered and shocked at this dangerous attack".
NI's First Minister Peter Robinson condemned those responsible and said they had nothing to offer society except "death and destruction".
Sinn Fein councillor Gerry MacLochlainn was in the area when the explosion happened.
"I was going up to the Tower Hotel because there was a possible evacuation because of a bomb scare," he said.
"Apparently a device had been left in the building society at the Diamond in Derry."
Mr MacLochlainn said that as he approached the hotel, the device exploded.
"There doesn't appear to be an awful lot of damage outside, thank God," he said.
Tags: