A pipe bomb was thrown at a house in Muff which exploded causing damage to the kitchen of the dwelling.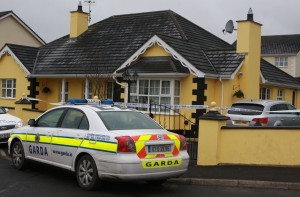 The house, on the Wheatfield estate, was attacked at 12.30am in the early hours of this morning.
There was only one occupant in the house at the time who escaped without injury.
The attack on the two storey house is the second in just a number of weeks.
In March two children, aged 9 and 11, cheated serious injury when a shot hit the sitting room window of the house.
Garda Inspector David Murphy of Buncrana Garda station said it was lucky that nobody was seriously hurt as a result of the latest attack.
"This is the same house at which shots were fired recently and it is indeed a worrying development.
"It was a small pipe-bomb device which has been examined by the Bomb Disposal Team. Any device of that nature has the potential to cause serous injury or death.
"Thankfully on this occasion neither occurred.
"I would like to appeal to anybody who was in the Muff area to make contact with us and let us know what they saw," he said.
House to house enquires are ongoing and a Garda forensic team are at the scene carrying out a full investigation into the attack.
Local sources say they suspect that Dissident Republicans are behind the attack.
Ends