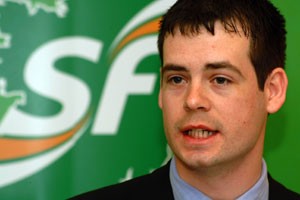 Sinn Fein Finance spokesperson Pearse Doherty has slammed today's Finance Bill and vowed to try to amend it to scrap the private pension levy and replace it with changes to tax relief.
Speaking from Dublin, Mr Doherty insisted: "The core element of today's anaemic Finance Bill is the imposition of a 0.6% levy on pension funds for the next four years. The Government plans to raise €470 million a year with the levy.
"The pension levy proposal is deeply inequitable. It excludes the Approved Retirement Funds used by many high earners to invest in their pensions. It also makes no differentiation between the pensions held by ordinary workers and those of high earners."
He told donegaldaily.com that his proposals offered a far more equitable system.
The Donegal South West TD said Sinn Féin has long advocated the standardisation of pension tax reliefs at the lower rate.
"This measure would not only remove an unjustifiable inequity in the current system but generate significant revenue for the state to invest in economic recovery," he claimed.
"Based on figures from a 2009 ERSI report on pensions, standardising pension tax reliefs would generate an additional €1.1 billion, of which €616 million would come from the top 10% of earners.
"Indeed the same report estimated that in the same year 82% of all pension tax relief went to the top 20% of income earners, demonstrating the grossly unequal nature of this relief and the need for its reform.
"Of course Sinn Fein would invest this money in a very different way to that outlined by the Government last week. However in the context of the Finance Bill before us the government has a clear choice between raiding the pension funds of all and targeting new revenue rising at those who can afford to pay the most."
He said he would be tabling amendments to the Finance Bill that will seek to replace the pension levy with a standardisation of existing pension tax reliefs, "the aim of which is to generate significant revenue to invest in creating jobs."