THIS is the missing Lifford man who has vanished after escaping from police custody.
David Colhoun, 22, from Beechwood Road has not been seen since the early hours of Sunday morning last.
Mr Colhoun, had been in police custody at Strabane PSNI station in Co Tyrone after being arrested for a minor offence according to police.
However when he was being transferred from one police car into another, he managed to escape.
The last sighting of Mr Colhoun was of him headed towards the River Foyle which separates Tyrone from Donegal.
However nobody has heard from Mr Colhoun since including his heartbroken girlfriend and his family.
The Gardai and the PSNI say they have not received any reported sightings of the missing man since his disappearance.
The PSNI have checked CCTV footage of businesses' in and around Strabane bus station yesterday to see what direction the 22-year-old headed.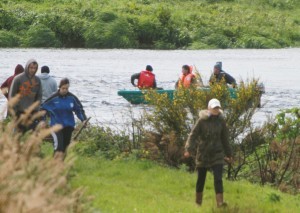 Searches along the river bank and surrounding areas by the Foyle Search and Rescue, the Gardai, PSNI and dozens of volunteers have been carried out but there have been no sightings of Mr. Colhoun.
A new search began this morning at 8am with the search being concentrated along the riverbank.
PICTURES BY: Newspixirl
Ends
Tags: