Donegal is today wakening up to a much quieter day after the worst May storm in living memory battered the county yesterday.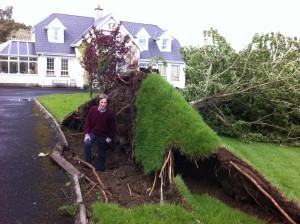 Repairs to homes and businesses are still ongoing after winds of up to 133kph ripped slates off roofs, uprooted trees and left live power-lines flapping about the countryside.
Some homes are still without electricity after 10,000 homes across the county were left without power yesterday because of fallen lines.
Late last night as many as 200 homes in the Letterkenny area were still without power but it is hoped they will be returned to normal supply this morning.
Our picture shows Niall McDaid getting to the 'root' of the problem after a massive tree was blown down in his family's front garden in Glancer, Letterkenny.
Thankfully there were no reports of any serious injuries as a result of the storm which was named Udo by meteorologists.
Some damage was caused to buildings as gusts of wind combined with heavy rain made conditions very dangerous in the afternoon.
One group of students were not all that disappointed by the arrival of yesterday's storm.
Students at Colaiste Ailiagh in Letterkenny got home at lunchtime when a couple of roof tiles were blown off leading pupils to be sent home early as a precaution.
There were several lucky escapes including motorists on the Doochary to Dungloe Road who watched in horror as a 40 ft steel container was blown across the road.
Several roads leading into and out of a number of towns and villages including Muff, Killygordan, Convoy, Ballybofey, Creeslough and Malin were blocked for a number of hours due to fallen trees.
During the height of the storm Met Eireann's Sinead Ryan warned people that it was dangerous to go outside and advised them not to travel.
Thankfully the forecast for today is for lighter winds and more rains.
Ends
Tags: