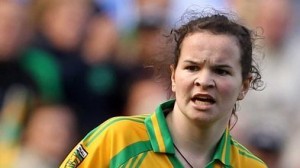 DONEGAL Ladies GAA star Geraldine McLaughlin has been confirmed in the Bord Gais League Team of the Year, as revealed by donegaldaily last week.
Confirmation came at a special function at Croke Park last night.
Speaking at the announcement Pat Quill, President of Ladies' Gaelic Football said: "It is a great personal honour for the players to be selected.
"All counties have talented players and these awards may be the only opportunity that players from counties who do not reach the final stages of competitions get to be recognised.
"I thank the county managers and referees for their diligence in their nominations. These are also coveted awards by the managers in recognition of their team building skills.
"It has been a wonderful evening of interaction and friendships and I thank Bord Gáis Energy for their foresight in honouring these talented members of our Association."
Geraldine was named in the corner forward position.
Bord Gáis Energy Division 1 Team of the League
1. Elaine Harte (Cork) 2. Aisling Quigley (Laois) 3. Gráinne Dunne (Laois) 4. Aoife McAnespie (Monaghan) 5. Briege Corkery (Cork) 6. Bríd Stack (Cork) 7. Aisling Holton (Kildare) 8. Joanne Timmons (Kildare) 9. Tracey Lawlor (Laois) 10. Cathy Donnelly (Tyrone) 11. Valerie Mulcahy (Cork) 12. Amy O'Shea (Cork) 13. Geraldine McLaughlin (Donegal) 14. Noelle Earley (Kildare) 15. Ciara McAnespie (Monaghan)
Cork = 5, Laois = 3, Kildare = 3, Monaghan = 2, Tyrone = 1, Donegal = 1