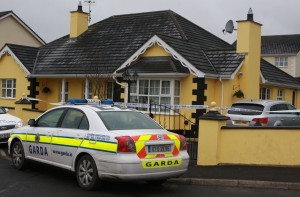 DERRY terror gang Republican Action Against Drugs (RAAD) has claimed responsibility for Monday's bomb attack in Muff.
The gang also said it would attack any estate agent involved in selling the house it had bombed.
A man inside the house was uninjured. It's the second time he has cheated death in a RAAD bombing.
"The occupant has put his house up for sale but RAAD will not allow him to profit from [it]," said the gang in a coded statement.
"He will remain a target for as long as he lives in Ireland. We also advise all estate agents not to be involved in the sale of the property."
Gardai are appealing for information on the incident. Inspector David Murphy said his officers were made aware of the incident at 12.35 on Sunday night. On investigation they discovered that a 'small device' had exploded.
"We called in the army's explosive ordnance people and they are currently examining the device. Our forensics people are also involved. We have been engaged in house-to-house calls in the neighbourhood and we would appeal for anyone with any information to contact us."
Tags: