Marine experts are on high alert amid fears of a mass whale beaching along the Donegal coast.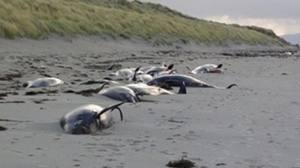 A pod of about 60 distressed pilot whales left the Outer Hebrides in Scotland on Sunday and are believed to be heading towards Irish waters.
A rescue operation was mounted on South Uist island last Thursday after the whales swam into the shallow and rocky waters of Loch Carnan. Two whales were found dead as the pod left the loch.
Experts believe the distressed animals could strand on an Irish beach, in an incident similar to last November's mass stranding of more than 40 whales on Rutland Island off the coast at Burtonport.
Donegal County Council initially wanted to bury the whales but eventually took them off the island and brought them for incineration in Cavan after local objections. 
Despite growing concern and speculation, Irish Whale and Dolphin Group (IWDG) said there have been no sightings yet of the pod of pilots in Irish waters.
"The weather is currently very stormy Irish seas and if gale force winds continue to blow from the south they will push the whales away from the Irish coastline," said Pádraig Whooley, the group's sightings co-ordinator.
"However, if the animals are injured, distressed and dehydrated, there is a huge possibility they will beach in the coming days."
The large group of pilots, who generally swim in waters up to 1,000 metres deep, are believed to have damaged their acoustics – used to hunt, communicate and navigate – when they swam into the shallow waters of Loch Carnan.
"For a pilot whale, swimming in a loch is like swimming in a saucer of water," said Mr Whooley. "Their acoustics would have been compromised and these animals may be swimming blind."
Although the Irish Whale and Dolphin Group are on stand-by and are receiving regular updates from colleagues in the UK, they also suggest the decision of a pod to mass strand should be considered a work of nature.
"Pilot whales are intelligent, matriarchal and tactile animals. They must know they are likely to die if one, or indeed all of them, comes ashore," said Mr Whooley.
He warned that if the whales do strand themselves on a remote Irish beach, it may not be possible to refloat them back out to sea.
"When whales beach there is very little human intervention can do to generate a positive outcome," he said. "Each individual pilot can weigh up to one tonne and we simply don't have the equipment, manpower or legislation to prevent the animals from dying, we may be left with no option but to put them to sleep in the hope of easing their suffering."
Ends
Tags: