Finn Harps have about as much chance of challenging for a place in the Premier League next season as Ivor Callely has of becoming the next President.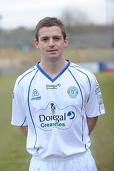 But the Balybofey side's season eventually kicked off last night when they won their first league game at the 12th attempt against Athlone Town.
A solitary Kevin McHugh goal after 20 minutes in very fortunate circumstances for the home team was the only real difference between the sides.
It wasn't Christmas but the Donegal side's goal was the biggest gift they're likely to receive this season.
The Midlanders' Niall Scullion and goalkeeper Michael Schlingermann got their lines of communication all wrong from a Paddy McLaughlin's delivery.
Scullion headed the ball blindly to where he presumably anticipated where he thought Schlingermann would be but he wasn't and McHugh stole in to score from all of three yards with an open net at his mercy.
Inside as little as six minutes McHugh passed up a decent opportunity when Scullion failed to cut out an optimistic ball forward from McLaughlin, which left McHugh in the clear. But the Harps skipper opted for the early shot from 20 yards and his effort curled over the crossbar.
After the gift-wrapped opener, Harps continued to dominate and Packie Mailey's header from Marc Brolly's corner flew wide as Bonner and Garbhan Friel also drew saves from the Athlone number one. Substitute Ronan Stack then diverted a shot from Mailey away as the half drew to a close.
Manager Peter Hutton and director of football Felix Healy should have been content with the first half showing and Harps played the ball around well with Mark Forker and Aaron McAlwee particularly impressive.
However, with eight straight defeats going into the game, confidence was understandably fragile and there were a few restless moments after the interval.
Athlone, who offered nothing in the first half with Alex Gardner isolated up front, restructured after the interval and Tommy Barrett was pushed forwards for a more orthodox 4-4-2 formation and he brought the first save of the evening from Ciaran Gallagher on 54 minutes.
Then, two minutes later Paul Danagher should've levelled matters when he missed a header from inside the six-yard box following a corner from Kevin Williamson. Another corner from the Athlone skipper saw Gallagher fortunate to escape with a flap as the balance of power seemed to be shifting. Monaghan then trailed a shot just wide of the Harps' upright. Danagher then saw a header land on the roof of the net following as the hosts began to get overrun in midfield.
Referee Dave McKeon then waved his head after what appeared to be a clear-cut penalty award when McHugh was bundled over by Darren Young and although Athlone did threaten more and more, Harps work rate was commendable and they laterally created a few opportunities themselves.
Friel was within inches of a drilled Forker delivery and McHugh uncharacteristically missed a one-on-one when set away by substitute Ciaran Coll and Bonner should've made it two when Forker was against the architect. In the end, though, the scantly populated home support were more than happy with the single goal and the long-awaited first win.
Finn Harps: Ciaran Gallagher;Paddy McLaughlin, Keith Cowan, Packie Mailey, Gareth Harkin; Mark Forker, Aaron McAlwee, Thomas Bonner, Marc Brolly (Ciaran Coll 77); Garbhan Friel, Kevin McHugh.
Athlone Town: Michael Schlingermann; Niall Scullion, Tommy Barrett, Paul Danaher, Jamie Carr; Kevin Williamson, Darren Young (Roy King 80); Stephen Relihan, Kevin Horan (Ronan Stack 19), Eoin Monaghan; Alex Gardner (Bobby Tier 63).
Referee: Dave McKeon.