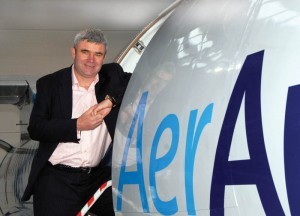 BUSINESS guru and Aer Arann boss Padraig Ó Céidigh has backed continued Government support for Donegal airport.
The Galway man has admitted in a RTÉ Raidió na Gaeltachta interview that air travel in Ireland does need to be restructured due to financial constraints.
The airline chairman – the biggest shareholder in the company – said central government funding will change in the future.
But Donegal, he said, had a better argument for support than some others including Galway.
He told the radio station that he believes that the connection between Donegal regional airport and Dublin, and the funding provided is essential, because travel between both places can be difficult.
However, motorway and train connections between Galway, and the close proximity of Shannon airport to Galway airport means that Galway's case for funding was not as strong, he said.
Passenger numbers on the Aer Arann Galway-Dublin route, in the last three years has decreased by two thirds, he revealed.