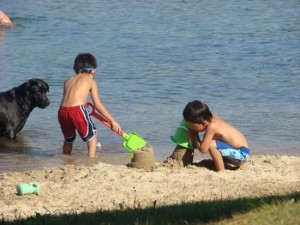 DONEGAL is set to be hit by a heatwave next week, a leading forecaster said today.
Peter O'Donnell from Irish Weather Online says temperatures next week could hit a super 24C!
After a miserable and wet May, the weather change will come just in time for the Bank Holiday weekend.
Warm weather will begin to arrive next Wednesday and continue for up to five days.
Said Mr O'Donnell: "Models continue to show this period (June 1 to Monday June 6) as a warm, dry spell, with plenty of sunshine and highs 18-22 C in light easterly winds.
"It could possibly reach 24 C in west given this set-up. East coast might have some local sea breezes. Despite a few false dawns with this warm spell, I think this signal is probably too strong to be a false start … although details may change.
"And the warm spell could last into mid-week before a cooler turn to northerly winds around the following weekend (this is very preliminary if you have interests in that weekend)."
The warm spell will bring an end to a miserable few weeks with rain, showers and a Force 10 storm ruining most of May.
It followed two weeks of great weather and high temperatures in April and early May.
Tags: