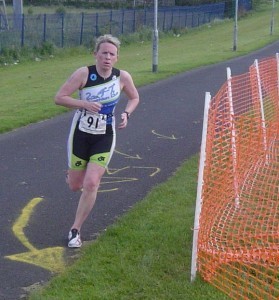 Sunday past saw the 26th Liam Ball sprint triathlon take place at the templemore sports complex on the outskirts of Derry City. It was a great day for the Letterkenny club and its members who travelled in numbers to take part in the event.
With weather conditions almost perfect a number of athletes shone through and came to the fore in their respective age groups and categories.
Alan Mitchell was first home for the Letterkenny based club, finishing in 3rd place overall and 1st place in his age group in a time of 1.05.40 getting himself off to a great start for this coming season providing a platform from which to build on over the coming summer months. Margret Kelly, seems to be back to her best, finishing in 2nd place overall and 1st in her age group with a time of 1.18.11 which will more than make more up for the disappointment of Limavady a couple weeks ago.
Other club members Ben George, Padraig Mitchell, Mark Nicholls, Lee Davies, Paul O Gara and Nick Fowell also had good performances finishing in the top 50 on this tough course in a field full of talented athletes from across the country.
Siobhan Gallgher who was competing in her first triathlon and Bronagh O Gara also finished very positively with excellent performances placing themselves in the top 10 female finishers, which will no doubt give themselves great confidence for the coming season.
David Gallagher, Adrian Mc Gettigan, Kevin Hennessey competed well and will be happy with their performances on the day, congratulations also goes out to Cathal Roarty and Niall Mulrine on completing their first tri, which will hopefully be the first of many.
This was a great display by individual athletes as many of the club are only in their 2nd competitive season, and is testament to the attitude and dedication of everyone.
The benefits of the tough winter training are finally starting to show for everyone. The next outing for most athletes is Athy county Kildare this coming weekend, on what is thought to be the best tri course in the country, here's hoping that we see some more great performances and the club can continue to take huge leaps forward in its development, and build on it's reputation as one of the best up and coming clubs in the country.
The club would also like to wish its chairman Gavin Crawford all the best as he takes part in the Army European Triathlon Championships in Holland this Wednesday.
Pic Caption: Margret Kelly in action on Sunday in the Liam Ball Sprint Triathlon, on her way to victory in her AG and second place overall.
Tags: