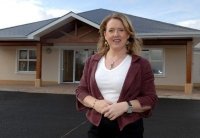 FORMER Fianna Fail senator Cecilia Keaveney is set for a cash windfall after stepping down from the Oireachtas.
The ex-TD will pocket a €55k termination payment.
She will also receive a pension lump sum of €126,675 – plus an annual pension of €40k.
The Inishowen politician has still not made a public statement on an expenses claim controversy.
She wrongly claimed overnight accommodation expenses on FOUR separate occasions when she was actually out of the country.
The Fianna Fail politician was contacted three times about her expenses – after claiming overnight expenses when she was away on official Dail business.
She wrongly claimed €140 for each of nine nights. On those different occasions she was in PARIS, ISTANBUL, BELFAST and STRASBOURG – when her accommodation was already paid for!!!
The revelations came in documents obtained under the Freedom of Information Act.
Despite repeated attempts to get an explanation the former senator has refused to comment.
Tags: