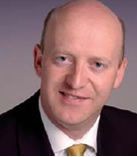 PRAMERICA Managing Director Henry McGarvey has called on Ireland to 'build on its achievements of the past' in looking to the future.
Mr McGarvey is the Chair of the American Chamber of Commerce Ireland's North West region and called for strong support for foreign direct investment in the North West and nationwide, at an event to mark the organisation's 50th Anniversary.
Speaking at a Gala Dinner attended by representatives of the US multinationals in the North West, Mr McGarvey said: "US companies directly employ over 100,000 people nationwide and in the North West there are 30 foreign companies responsible for 5,000 jobs and many thousands more indirect jobs.
"This strong base of 600 US multinationals here contributes to the economic success at both national and regional level.
"Throughout Donegal, Leitrim, and Sligo, we have a strong track record in the Financial and Professional Services, Pharmaceuticals, Diagnostics, and Advanced Manufacturing sectors. These are now global companies that serve the world from their bases in the North West of Ireland."
"US Companies play a vital role to Ireland's economy," McGarvey explained, "they spend in excess of €16 billion annually on payroll and services and contribute more than €3 billion in corporation tax.
"In 2011 over 11, 000 jobs were announced by IDA Ireland and three quarters of these were by US Companies. Total exports are to exceed €170 billion for the first time, with US companies accounting for almost €100 billion of this vibrant element of Ireland's economy."
"The legacy of successful business operations established by US companies here over the past five decades has helped secure additional investment in Ireland. US Companies now have $165 billion invested in Ireland, and this is more than the combined total in Brazil, Russia, India and China.
"We need to create a climate which secures this existing investment and allows us to expand that investment and attract new FDI to Ireland. In creating that environment, it is clear that we must actively manage our own road to recovery".
"The story of FDI in the North West is one of longevity" according to McGarvey, who pointed out that "the region has established many successful long term relationships with some of the largest employers not just in the region but nationwide, such as Abbott since 1974 and MBNA since 1997."
McGarvey said the North West community is one of the critical factors for success. "I value the tremendous partnerships that exist between our businesses, local and multinational, with county and town councils, the local Chambers of Commerce and of course the American Chamber, along with Fás and the third level institutes and the IDA. Together we have forged a team spirit, with which we all move together towards greater prosperity."
Of the future Mr. McGarvey said the Chamber is "adopting the voice of optimism."
He added: "We firmly believe that while the problems in our public finances and the banking sector cannot be downplayed, we must recognise that that we are now laying the foundations for a more positive future."
"Global FDI is predicted to grow by up to 20% this year" stated McGarvey, "and Ireland is well positioned to benefit from this. The latest IBM Global Trends Report has shown that Ireland is the number one location worldwide for winning FDI jobs, on a per capita basis."
Companies participating the American Chamber's North Western Region include:
Abbott Ireland Diagnostics Division, Abbott Ireland Diabetes Care, Abbott Ireland Pharmaceutical Operations, Abbott Nutritional Devices, Elanco Animal Health, Institute of Technology, Sligo, Letterkenny Institute of Technology, LotusWorks, Lough Eske Castle, a Solis Hotel & Spa, MBNA Ireland, Pramerica Systems Ireland, UnitedHealth Group, Zeus Industrial Products (Ireland) Ltd.