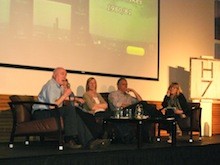 THE 1981 Hunger Strike was 'our 1916' and will ultimately lead to a united Ireland, the former director of publicity for Sinn Fein told a meeting in Letterkenny tonight (Wednesday).
Danny Morrison was one of four senior republicans who addressed an audience of nearly 200 people at the Radisson Hotel.
Also speaking at the event were Seanna Walsh, the former OC of the IRA in Long Kesh, Mary Doyle, a former Armagh women's prisoner who took part in the 1980 hunger strike and Derry woman Mary Nelis, whose two sons were on the blanket.
The National Hunger Strike Exhibition was also on display, featuring many pictures and items from both the 1980 and 1981 Hunger Strikes.
Addressing the audience, writer Morrison said the history of the Irish conflict and Irish republicanism had shown that the British government had repeatedly tried to humiliate prisoners in order to defeat republicans outside prison.
But he said that 'I personally believe the Hunger Strikes were a victory for Irish republicans' and that they would 'ultimately lead to a united Ireland.'
Morrison, who liaised with the hunger strikers at the time, said he believed the protests which led to the deaths of 10 republican prisoners was 'our 1916' and was rebellion that would lead ultimately to the goal of a 32-county republic.
He also said he wanted to dispel the myth that putting Bobby Sands up as a candidate for the Fermanagh/South Tyrone by-election in 1981 (he was subsequently elected) was part of a pre-meditated strategy.
Seanna Walsh told the audience how Father Denis Faul had warned the prisoners that the decision to stand in elections north and south (Kieran Doherty was elected a TD in the south) was a mistake.
"He told us that people would support us, they would keep guns for us and shelter people on the run, but that the people of Ireland would never vote for us," said Walsh.
He also revealed that the IRA had fought against the hunger strike and it was the prisoners who were in control.
Asked by a member of the audience what he would say to anyone who wanted to join dissidents now, Walsh said the 'armed struggle' had emerged out of a desire for equality and was a response to a repressive state in 1970.
He said the conditions for an armed struggle no longer existed.
"We were once activists with guns. We are now activists without guns; it's still the same struggle and the struggle goes on for a 32-county Irish republic, free from British interference," said the former IRA man.
Tags: