The vision of Letterkenny man Mark Cannon will become a realty this summer as the Cathedral town hosts its first ever basketball summer league, bringing together six team over six weeks all in the name of basketball.
Set up exclusively using the medium of Facebook, Mark attracted 42 players from all corners of Donegal, some of whom had never met or previously played together.  And last week they all turned up at Aura Sports Complex in Letterkenny to launch the town's first summer league.
There are players from Inishowen, Milford, Donegal Town, Letterkenny, Gweedore, Derry and indeed many different nationalities who are all taking part in the quest to win the title of Summer League Champions.
Mark Cannon says he is surprised at how his idea has resonated with so many people.. "I wanted to get a small league started for the early summer months but I didn't expect a call on Facebook to deliver 42 players in a few short weeks.  The league creates an opportunity for players from different teams in the county to come together for the love of basketball!"
Letterkenny has a strong basketball fraternity and in fact many players are already involved in Blaze Basketball Club which has been hailed as one of the town's growing clubs for young and old.
Two local businesses, Edwin Foley & Co Chartered Accountants and JK Sullivan Design have come in behind Mark and supported the event so impressed were they with Mark's initiative and ambition to do something positive for the town.
"It is people like Mark Cannon, that provide us with great examples of leadership through his can-do attitude and getting out there and doing something positive – and that quality is essential not only in sport but also in business." Edwin Foley.
Enthused by the initial reaction Edwin Foley says, "by working together and having a true belief in our own ability, we are confident that the very first Letterkenny Summer League will evolve into something bigger and better which could have a positive impact on the lives of future young aspiring basketball players."
Keep up with all the action on the Letterkenny Summer League Facebook page for updates reading stats, results, weekly predictions and even some game commentary.  A free booklet containing details of teams, fixtures, etc can also be downloaded at: www.edwinfoley.ie/Letterkenny-Summerleague.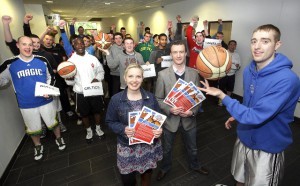 Tags: