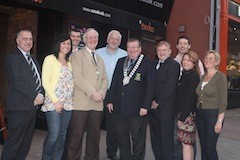 The Letterkenny Live festival has been officially launched by Toni Forrester, Chairperson of the festival committee.
It has been a long year since the first meeting to revive the Letterkenny festival and the small committee have been through many highs and lows along the way, however the festival is now a reality and only 2 months away!
Said PRO Siobhan Barrett-Doherty: "Letterkenny Live will provide a festival for the locals of Letterkenny and surrounding areas and also for visitors to the town, this year we hope to attract a large crowd on which to build year on year with the aim of becoming known as a regular festival destination.
"Through feedback everyone has said that a town this size can sustain a festival, this is the first attempt to bring the festival back after a gap of many years.
"Over the next few years, we envisage many festival revellers coming to the town and this will help fill hotel bedrooms and local Bed & Breakfasts etc but more importantly there will be a regular summer event in the town"
She said the festival gig rig will be located on Oliver Plunkett road and both nights will kick off at 8.00pm and finish around 11.00pm, this will be early enough for families and young people to get home and for other revellers plenty of time to visit the local pubs and clubs who will have events, DJ's and bands on that weekend
Said Siobhan: "There is still a lot of work to be done and of course there's still money to raise, we haven't got enough yet to cover all the festival costs. At the moment we acknowledge funding from Letterkenny Town Council, Donegal County Council and Failte Ireland North West. We are appealing to everyone for financial assistance so if you can help or encourage anyone else to help, every little bit counts."
Festival producer Darren Browne has secured a great line up for both nights and we believe the line up will attract visitors and locals. The festival is FREE, easy to get to and with the support of the council, tourism providers and the business community it will be a great success.
The headline band for Friday Night is Smashhits who are a popular band around the country playing 90's cover versions, they will be supported by Eoin Glackin, a young Dubliner with strong links to Donegal, Eoin has just recently been signed by Sony Music Ireland and has just released his debut album "Not Lost", completing the Friday Night line up is Donegal band Heads of State, a 3 piece indie pop and rock band from Castlefin.
The headline act for Saturday Night is Ryan Sheridan, who recently launched his debut album that went to number 2 in the Irish charts. From county Monaghan, he is destined to be a big hit. Supporting Ryan will be well known Paul Ward & the Humble Earth Worms, popular classic pop and rock band along with Blue Moose, who are well known cover band nationally and internationally.
For up to date information on the festival follow it on facebook, facebook.com/Letterkennylive and on the wesbsite www.letterkennylive.com.
Tags: