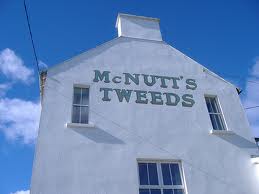 McNutt's of Downings famed for their rich heritage and craft of milling tweed, has being undergoing a transformation over the past six months and last month they officially launched not one, but two new business ventures.
Donegal Woollen Mill crafts woollen blankets, throws, baby blankets and picnic rugs from their picturesque location in Downings, and they are now selling their wares online to a global marketplace.
Their new website www.donegalwoollenmill.com went live earlier this month and provides a platform to showcase their unique craft and Donegal-inspired designs to the large following of Irish diaspora and international customers who have followed the McNutt's brand for many years.
The team at Donegal Woollen Mill are also hoping that their website introduces them to an audience not previously aware of their distinct brand.  With collections such as Sheephaven, Glenveagh, Atlantic, Mulroy and Glen, they are sure to cause a stir on the international stage.
Visitors to the site are guaranteed a strong sense of the Mc Nutt's traditional craft but also a small piece of Donegal.
Speaking this week William McNutt says, "along with our new ecommerce site we also decided to open a new craft and gift shop.
"The shop is in a building originally built in the early 1900's but which was taken over by the McNutt family in 1953 and home to the famous weaving factory.
"The shop allows us to showcase our own products alongside some of Ireland's best produce and giftware. We stock local interest photographs, Irish ceramics, candles, soaps, books, jams, sweets and other great gift ideas," says William.
Perched on the edge of Downings Bay McNutt's also have a coffee house which serves as a welcome retreat to the many locals and visitors tempted by their home-made produce.
Donegal Woollen Mill Craft & Gift Shop is open 10.30am – 5.30pm, Monday to Saturday. Donegal Woollen Mill can be contacted on 074-9155562. Visit their new range of blankets and throws on www.donegalwoollenmill.com and you can also find them on facebook.
Tags: