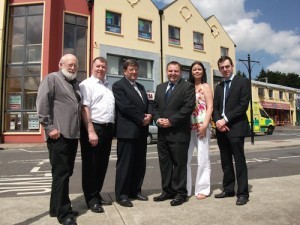 West Tyrone MP, Pat Doherty has "cut the ribbon" on Deputy Pádraig Mac Lochlainn's new constituency office overlooking the Station Roundabout, Letterkenny.
This office will service the Letterkenny and Milford half of the Donegal North East constituency while a second office in Buncrana will service the Inishowen half.
Deputy Mac Lochlainn said: "I am delighted to announce the opening of our Letterkenny office. The Sinn Féin team and I were deeply honoured with the support we received across Letterkenny and Milford at the Dáil election and we are determined to give the people in this area the service and representation they deserve".
"This office is a central part of our contract with the people and we encourage everyone to call us at 07491 26798, email us at padraig.maclochlainn@oir.ie, or visit us in the office at Unit 8C, O Boyce's Corner, 78A Port Rd (overlooking the station roundabout). We will be open Monday to Friday from 2 pm to 5pm".
"With my local party colleagues Cllrs Gerry McMonagle and Mick Quinn, we work as a team to deliver locally and nationally"
* Pictured outside the Letterkenny Constituency Office on the top floor are Hugh Doherty, Cllr Gerry McMonagle, Pat Doherty MP, Deputy Pádraig Mac Lochlainn, Debbie McDaid (Constituency Secretary) and Cllr Jack Murray.
Tags: