THE organisers of the Donegal Rally are celebrating today after it was confirmed that a works Ford Fiesta Super 2000 car is being entered.
It is the same car which won the Monte Carlo Rally in 2010 when driven by Mikko Hirvonen.
Although Hirvonen will not be behind the wheel of the M-Sport prepared car, Tyrone driver Alistair Fisher will drive it and Donegal sporting great Rory Kennedy will be co-driver.
Rory was co-driver for the late Bertie Fisher, Alistair's uncle, the most successful crew in Irish tarmac history.
Alistair has been working on this for some time and the event organisers are delighted that M-Sport (pictured) will once again appear in Donegal.
Alistair is running at the front in the FIA's new WRC Academy, with a different spec Ford Fiesta and led the field on the WRC round in Portugal last month and there is no doubt he will be driving hard in Donegal.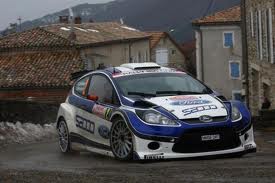 A spokesman for Donegal Motor Club sqid: "This is fantastic news for the event and for Irish rallying.
"It will be great to have the M-Sport team in Donegal again.
"We suspect a few of the top seeds will be sleeping a lot less easily from now until the rally starts on June 17."
Rally programmes will be published shortly and may be pre-ordered on the Topaz Donegal International Rally website at: www. donegalrally.ie.
Our video shows Alistair Fisher and Rory Kennedy in action in Cork last year.
Tags: