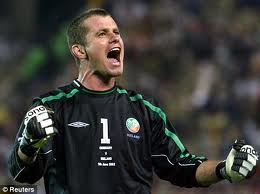 SHAY GIVEN and Aiden McGeady will start for Ireland against Macedonia tonight, with the Lifford man expressing his surprise at recent controversies surrounding 'missing' players.
"It's been disappointing, very disappointing," said Shay of the situation which saw four players fail to turn up for recently friendlies.
One of them was James McCarthy whose Donegal connections meant he decided – like Aiden McGeady – to play for Ireland instead of Scotland.
Ultimate professional Shay would never talk about specific players.
But he did say: "You know, it's a massive game on Saturday. Last week's games against Northern Ireland and Scotland were great preparation for everyone.
"I don't know what words you can . . . someone wrote in the papers that (Giovanni) Trapattoni might have to summon three players to play in Macedonia, and I just looked at that and thought 'if that's what it's come to, there is something really badly wrong'.
"They should be queued up outside the hotel to get in the squad and pestering him when they're not, instead of the other way around. It's very disappointing, but this is the way of the world."
Asked if he thought there is a change in attitude to playing for your country, the Man City goalkeeper said: "I don't know, but when I was younger I was desperate to come over, meet up and play in the games.
"Idon't know why that seems to have changed. It shouldn't have changed. It should be the same buzz. I still look forward to coming over and playing, still, after 15 years, I think.
"I don't understand some of the mentalities."
And he wants to focus on helping Ireland win tonight's Euro Qualifier (kick-off 8pm).
He added: "I just think if we can get at Macedonia a bit, they've got some weaknesses. If we can impose our game on them I think we've a good chance of getting the right result.
"A win, of course, would be ideal, we're not going out just to shut up shop and hoping to come away with a point. We want to win the game and there's no reason we can't. I've a few weeks off after that before we go back pre-season.
"That would be fantastic for the whole country, to finish on a high. And it's important to get the right result because you'll be seething for the whole summer if you don't. Hopefully we can do that."