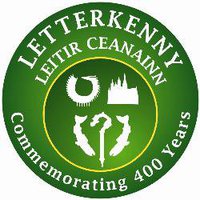 AN EVENING OF BAROQUE MUSIC, 5th June, 8pm.
CONWAL PARISH CHURCH, Letterkenny performed by DONEGAL CAMERATA String Ensemble (Orsolya Szabó-Yélamo, Claire Cunningham, violins; Lucia Spacirova, violin/viola; Víctor Yélamo, violoncello; Michael McGinty, double bass)
Music from Johann Pachelbel (Canon & Gigue), Henry Purcell (Pavane & Chaconne), Johann Sebastian Bach (Air on the G String), Antonio Vivaldi (Sinfonia in C Major & Largo from the Winter), William Boyce (Symphony No. 1 in B flat) Turlough O'Carolan/Derek Ball (Suite "O'Carolan in Love") a very special arrangement by letterkenny composer Derek Ball for the evening. Entry FREE.
Also raffle at the end of the evening. All proceeds to Donegal Pet Rescue & St. Lazarus Leprosy Relief Fund For more information please contact 085 806 8057.
Proudly sponsored by Animal Health Centre, Ramelton & Susan Roulston Vet, Newtoncunningham.
Part of the LK400 Commemorations.
For full programme click here: www.donegaldaily.com/2011/06/04/letterkennys-400th-birthday-full-programme-of-events-this-weekend/
Tags: