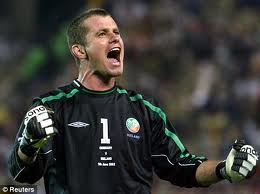 SHAY GIVEN shook off an attempt to blind him by Macedonian football hooligans in Skopje last night.
The big Lifford goalkeeper went on to have one of his greatest ever displays in an Ireland shirt as Robbie Keane's double strike gave us an historic victory.
The Dublin striker's goals took him over the 50 mark for his country – one of just 13 European players to reach that level.
But it was also the display by Shay which helped Ireland to victory, pulling off a string of world class saves.
Just as the game was starting, Macedonian soccer hooligans targeted the Donegal man with potentially blinding lasers.
However it didn't deter Given.
Shay Given had to pull off a fine save from Goran Pandev at point-blank range with 13 minutes gone, and he was back on his feet in time to deal with Goran Popov's follow-up when it arrived at pace.
The Ireland goalkeeper had to be at his best to turn away substitute Mario Durovski's curling 68th-minute effort as it arced towards his top corner, with the home side making a final desperate push.
And there was a superb performance in the game from Donegal's Aiden McGeady, the tricky winger worked tirelessly throughout the game.
Macedonia may now face sanctions from UEFA over the laser pen incident.
Tags: