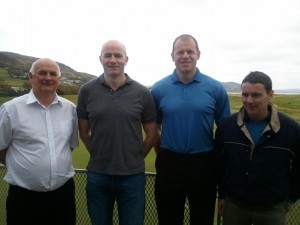 The u12 girls hosted a well attended blitz in the Scarvey on Saturday morning, Carn, Urris, Malin and Moville were very welcome visitors, the club has noticed the rise in interest in the underage set up and we
were in a position to field 4 teams with all having the ability to compete on a par with the girls from the Inishowen peninsula.  The event was sponsored by Supervalu, Buncrana who have been great supporters of these fun blitz's, thanks to all the parents who provided refreshments as well, thanks to all the teams who traveled and for their co-operation and patience in what proved to be a congested Scarvey due to other matches taking place at the same time.
On Tuesday night the girl's under 14 team hosted Moville, who are probably the best team in Inis Eoghain indeed the County at this age group. The first half was very competitive and Buncrana competed well against this strong Moville side. Through some very effective tackling and good marking Moville only managed to score 1g 3p and if  Buncrana had taken their scoring opportunities of which there were plenty they would have ended this half on top.  In the second half the experienced Moville side dominated the play and showed why they are one of the top teams in the competition.  Despite their dominance the Buncrana girls never gave up and chased the game right till the final whistle.  It was a good team performance from the girls and the girls introduced as subs also made a valuable contribution to the game.  Hopefully our youthful team will learn a lot from this game and use it to their advantage over the remaining games.
Our u14 hurler's added the Donegal League title at O'Donnell Park, Letterkenny on Thursday night.  They were up against old rivals Aodh Ruadh.  The boys knew they would be up against strong physical Ballyshannon side, but our lads were more than a match for them, the boys were slow to start and went in at half-time 3 points to 2 down.  The dressing room was not a place for the faint hearted and all were asked for improvement and to a man they did.  The second half was a different story and we began to pull away the second half was capped with a fine goal from youngest player on the pitch Aaron Craig, no
doubt it will be the first of many.  The backs all stood up when it mattered, PJ McCarron, Aedan Stokes, Sam Doherty and James Doherty all impressed, the midfield duo of Paul Nelson and Darren Doherty were
the driving force in the second half revival, the lively Dylan Duffy chipped in with 1:2 and will be happy with his hours work other scorers incuded Sam Doherty 1:1,Aaron Craig 1:0,Tom Clare 0.2, Craig Doherty 0.1.  This result helps to build for the upcoming trip to Galway and next up is an away trip to Ballybofey to play McCumhaill's on Thursday evening in the Championship semi final.
*** All mangers are asked to check with Martin Mullan on 087 246 8108 about the availability of both pitches as there has been a number of fixture clashes lately. ***
Congratulations to John Doherty and his new bride Tina Patton who were married last Friday.  John spoke passionately of his affection for and affiliation to Buncrana GAA Club.  He went on to thank the club for the guidance given to him over the years and the personal development it provided and John is someone the club is rightly proud of.
PJ McCarron deverves great praise for the excellent organisation and success of the Buncrana GAA Club Annual Golf Classic hosted by the superb North West Golf Club in Lisfannon all day Saturday.  Former player and current NWGC Captain Mr. Eugene O'Connell spoke sincerely about his admiration for the Club and comment on how it was the single most important organisation in every town and village for the social development and physical well-being of our youth.  The club wishes to thank Captain Eugene and all staff and members who ensured the day was a great success.
A number of legends of the GAA took part including Anthony Tohill of Derry and Monaghan's Noody Hughes and indeed a big thanks to all members and competitors who played on the day.
Buncrana GAA Club wishes to thank all sponsors, players, staff and officers of the NWGC, Cathy for keeping PJ right, Gary Duffy for keeping time, the spotters and Demi and girls that sold raffle tickets, Mickey and Charlie for the entertainment and Cindy for the photography.  The day would not have been what it was without the one and only PJ McCarron.  His workrate and enthusiasm to ensure success was rewarded with a dry day and well done to him and all who assisted.
Best of luck to senior player Ryan Bradley as Donegal aim for a semi-final berth against Tyrone in Breffni Park this Sunday as they take on Cavan.
A date for this year's club barbecue has been set at Saturday the 13th August, more details will become available nearer the time.
If you are clearing out your wardrobe or just looking to get rid of old clothes you can help raise much needed funds for the club by putting them into the clothes bank at the Scarvey at any time.
Attached photo, Malachy McCann, Paul McGonigle, Anthony Tohill & Gary Duffy.

The results of the club's lotto draw which, took place on Tuesday 31st May in O'Flaherty's Bar on the Main Street, are as follows.   The winning numbers drawn for the €10,000 jackpot were 01-09-18-24.
There were no winners.   The winning numbers for the €1,975 Lotto Plus draw were 01-10-19-32.  There were also no winners.   There were five €20 consolation prizes which went to the following participants:
Lynda Grant, Ballinglera, Leitrim;
Siabhra O'Flaherty, C/o Bar;
Liam Poet, Bookies;
Peter McKinney, Marion Park;
Paddy McMyler, Grianan Park.
For the purposes of hygiene and efficiency all players at ALL levels should bring their own water to all training sessions, from seniors down.
Use of the Scarvey pitches for training or matches MUST be confirmed with Martin Mullan in advance (087 246 8108).  Use of clubhouse MUST be confirmed with David McConnell in advance (087 939 2767).
If you do have any items which you think should be included in the club's weekly notes, please email buncrana.pro@gmail.com by 6pm on a Sunday for consideration.
To keep up to date with all the latest goings-on, please join us on www.facebook.com/buncranagaa or www.twitter.com/buncranagaa
Tags: