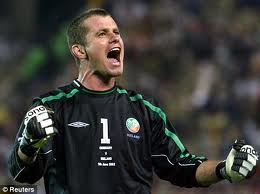 SHAY GIVEN could have a new club within days after being granted permission to miss Ireland's friendly with Italy in Liege.
The Lifford man had a superb game against Macedonia, pulling off several world class saves to help the national side to a Euro qualifier 2-0 win on Saturday night.
And that was despite being targeted by soccer hooligans who shone a laser pen into his face in the first minute of the match.
While Shay went on to have a great game, his Man City team-mate Joe Hart was having a nightmare at Wembley as England struggled to a 2-2 draw with Switzerland.
Ireland assistant boss Marco Tardelli confirmed Given's absence from the match in Belgium.
"I think Shay Given and Kevin Kilbane have a problem," said Tardelli.
Now it's understood Shay will have talks with Manchester City about his future.
He still has two years left on his contract with the club and City are keen to keep the 35-year-old as cover for Joe Hart.
But the County Donegal man craves first team football and he has been linked with a number of clubs including Celtic, Liverpool, Arsenal, Spurs and Leicester City.
Sources have not ruled out a loan move to Championship side Leicester with a 24-hour recall clause.
Given would also love a return to Celtic.
The situation is being monitored by Kenny Dalglish at Liverpool where Pepe Reina may well decide to leave Anfield this summer.
If he does, it is almost certain that Given will go to Liverpool.
Meanwhile former Ireland star Matt Holland was full of praise for Shay after the weekend win.
"I thought Shay was superb," said Holland.
"He has had a frustrating season at Manchester City but twice he was called into action in Skopje and he made two wonderful saves.
"His save in the 13th minute from Goran Pandev illustrated all that is wonderful about Given.
"When you see Brad Friedel at 40 getting a two-year contract with Spurs you do really scratch your head at how Shay, five years younger, is still sitting on the bench at Manchester City."
OTHER STORIES:
SHAY TARGETED BY HOOLIGANS:
SHAY UNINJURED AFTER MACEDONIA FANS TARGET HIM WITH LASER PEN
Tags: