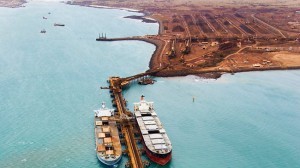 A JOINT police and Department of Mines and Petroleum investigation has begun into the death of a Co Donegal man in Western Australia yesterday.
As donegaldaily reported last night, the 28-year-old was Sean McBride from Burtonport.
He was an employee of Celtic Scaffolding and was carrying out maintenance work from scaffolding on a jetty in Dampier when part of the scaffolding fell into the water about noon yesterday.
His body was recovered by police divers just before midnight local time.
Fellow workers – many from Ireland – have told police they did not see the accident, but heard the sound of falling scaffolding.
When they went to see what had happened, they could see Sean's hard hat floating in the water.
An emergency rescue plan was launched Sean was pronounced dead at the scene.
Sam Walsh, Rio Tinto's Chief executive Iron Ore and Australia, said the fatality was a tragic event, and one that would be fully investigated in cooperation with the authorities.
He said: "I offer my sincere condolences to family, friends and teammates. We are ensuring that appropriate counselling services are available.
"We seek to achieve a zero-harm workplace across our operations, and this tragedy is a terrible reminder that we can never be too careful, that we can never place too high a priority on ensuring a safe workplace.
"Rio Tinto has not experienced a fatality at its Pilbara operations since August 2003, but this incident highlights the fact that there is never any room for complacency in the effort to ensure a completely safe workplace."
All operations at EII have ceased while the accident is investigated.
Police have cordoned off the scene, while a Rio Tinto investigation team is due to arrive on Monday.
In Burtonport there is disbelief at what has happened.
Local councillor David Alcorn told donegaldaily.com: "He was a good young man who came from a good local family. Obviously the whole community is in deep shock."
Burtonport parish priest Fr Pat Ward said: "The community is absolutely devastated. It's a huge blow in the area and for Seán's family, who are very well-respected."
Sean, who has two brothers and three sisters, returned to Donegal earlier this year from Australia to complete paperwork.
Friends say he was delighted when he secured a four-year work permit to enable him to return Down Under six weeks ago.
Previous story on this subject:
UPDATED: BODY OF BURTONPORT MAN RECOVERED AFTER AUSTRALIAN BUILDING SITE ACCIDENT
Tags: