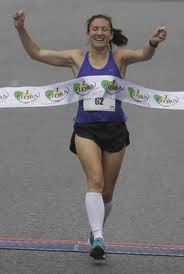 DONEGAL athlete Caitriona Jennings has won the Flora Women's Mini-Marathon.
The 30-year-old Letterkenny native crossed the line in an unofficial time of 35m29s. She was sixth in the race in 2010.
Over 40,000 women took part in the race, with many running and walking the 10km south Dublin course for charitable causes.
Said Catriona: "The conditions were perfect – it was a bit windy on the way out for the first 5km but that kind of kept the pace fairly even.
"I felt really comfortable, I didn't want to think too far ahead but the girls were just dropping off and I thought the pace was fine so I stuck with it.
"I run with Sportsworld in Terenure. The training for this has been up and down because I was injured. I had an Achilles problem in January which kind of lingered until around April so I didn't think I'd have enough training coming back in here.
"This is probably my first big win – I was sixth here last year and fifth the previous year so I really wanted to make amends and I'm delighted it's paid off. Third time lucky. It's not my fastest time. I think it was just outside my personal best, but not too far."
Tags: