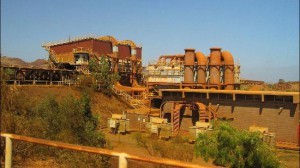 The company which owns the wharf where Burtonport man Shaun McBride died has vowed to do everything possible to investigate how the accident happened.
The 28-year-old died on Saturday at the site in Western Australia where he began work just six weeks ago.
Police are continuing to investigate the accident on the wharf at East Intercourse Island where Shaun was carrying out maintenance.
The wharf is one of three jetties used to load iron ore shipments and accounts for about a third of the 145 million tonnes Rio Tinto exports from Dampier each year, a company spokesman said.
It was the first fatal accident in the company's Pilbara operations since August 2003.
Gervasse Green from Rio Tinto Iron Ore said his company was helping the authorities with their investigation.
"He was with a team of contractors who were working on one of our jetties at the port of Dampier. It is a large jetty where the iron ore ships are berthed," he said.
"They were carrying out routine maintenance work which includes work on scaffolding and the reports are that the other workers heard a flash, turned around and saw that the man wasn't there and some of the scaffolding appeared to have fallen into the water.
"Somebody jumped into the water but efforts to locate him were unsuccessful."
Mr Green said Rio Tinto Iron Ore would also conduct its own investigation into the accident.
"A fatality of this nature is very unusual and it's horrifying when it does happen.
"In additional to the coroner's investigation we will do our own comprehensive investigation to see what we can do, if anything, to prevent anything like this happening again," he said.
Fianna Fail councillor David Alcorn said: "Shaun was a fine strong man who worked in Dublin and in London before moving to Australia a couple of years ago.
"He was a great worker and a member of a very good family who are very much involved in our community in Burtonport.
"A huge number of people have been calling to the family home to convey their sympathy. The only thing we can do is pray and remember his mother Sylvia, brothers and sisters.
"Hopefully it won't be too long before his remains are brought back from Australia to be buried here in our own area."
It was the third tragedy for Sylvia McBride, Shaun's mother.
Her first husband, Roland Faughnan, died in the Evelyn Marie fishing boat tragedy off Arranmore in 1975.
Her second husband, Joe Ban McBride, died suddenly 10 years ago when attending a wake on Arranmore Island.
Tags: