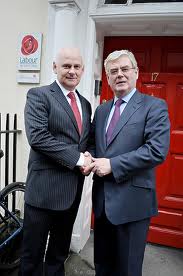 Labour Senator Jimmy Harte has called for Seanad Eireann to move out of Dublin for at least one sitting a year, and to move to places like Donegal.
Speaking in the Seanad he said: "I believe that this Seanad should meet outside Dublin on perhaps one occasion every year. Article 15.1.3° of the Constitution makes clear provision for this and it states that: 'The Houses of the Oireachtas shall sit in or near the City of Dublin or in such other place as they may from time to time determine.'
"I ask that the House give this some consideration. I am sure my colleague, Senator Ó Domhnaill, would not disagree that it should be held in County Donegal for the first time and after that it could sit in Galway, Cork and Kerry, to name but a few counties.
"The people have to see the Seanad is active and not just in Dublin. Many of the new Senators are from rural Ireland and they would like to see the Seanad sitting one day a year in another place, perhaps in the Cathaoirleach's own county of Mayo which I am sure would be second after County Donegal. I would not object to that.
"I ask that my proposal be referred to the Committee on Procedure and Privileges for consideration. It would be in the interest of all Senators to travel. I believe that this could be arranged on a cost neutral basis.
"Some Senators may not have been in County Donegal in all their lives so I am inviting everyone to visit. We will provide a suitable venue in which to host the Seanad. It will also be a tourism boost for Donegal."
Tags: