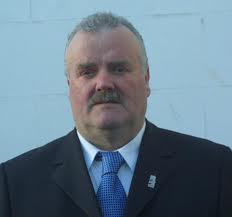 Sinn Fein Councillor Michael McMahon is the new Mayor of Bundoran Town Council after a 'voting pact' with Fianna Fail.
Fine Gael Councillor Eamon Barrett also contested the position but lost out on a vote of 5 to 4.
And Cllr Barrett went on to claim that Sinn Fein and Fianna Fail are now effectively operating a pact on the town council.
Cllr McMahon takes over the role from Fianna Fail Councillor Sean McEniff. Fellow Sinn Fein Councillor Sean Carthy was elected unanimously as the Vice-Chair of the Council.
The Fine Gael party in Bundoran says that it is not involved in any power sharing pact on Bundoran Town Council.
Cllr Barrett said afterwards: "It is now clear for everyone to see that Fianna Fail and Sinn Fein are operating a pact in the town council."
Cllr McMahon vowed to work for all the people of Bundoran.
Meanwhile businesses who don't pay their rates are to be kicked off the council's website, it has been decided.
Any business with more than six months arrears will be removed from DiscoverBundoran websites.
Tags: