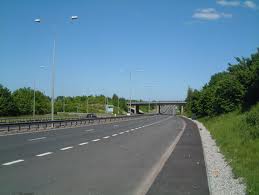 A UNIONIST minister in the North has revealed that engineers have said the proposed A5 dual carriageway link between the North West and Dublin will be safer and will affect fewer land-owners than alternative proposals.
The North's Regional Development Minister Danny Kennedy said however no decision would be taken until an ongoing consultation with landowners was complete.
The dual carriageway will run from Derry to Aughnacloy and help to link Donegal to Dublin.
The Government is committing €400M to the project.
Engineers found that a new dual carriageway was the most cost-effective project compared to upgrading the existing route.
The Assembly debate came after Sinn Fein tabled a motion backing the A5 scheme.
Minister Kennedy is facing opposition from within his own party with MLA Ross Hussey objecting to the cost.
The A5 Western Transport Corridor is the largest proposed single roads project in Ireland and is estimated to cost up to €900M.
The Government and the North's Executive agreed in July 2007 to bring forward projects to provide dual carriageway standard on the A5 (Aughnacloy to Derry) and the A8 (Belfast to Larne).
Tags: