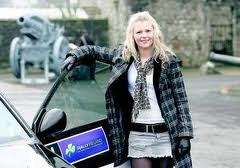 DONEGAL'S shocking road carnage statistics were laid bare today when senior gardai and Road Safety Authority boss Noel Brett spoke at Letterkenny Institute of Technology in a bid raise awareness of road safety during the June Donegal Rally, and throughout the summer.
Rally driver Toni Kelly was among those advising rally fans that they cannot drive like professionals.
The conference comes as the number of people killed on our roads has reduced.
However a report released today showed that 307 people died and almost 1,200 were seriously injured on the roads of Co Donegal between 1996 and 2009.
RSA Chief Executive Noel Brett described Donegal's record as 'appalling' but said things have improved and the number of deaths has been reduced.
Eight people had died on Donegal's roads this time last year, and to date this year three people have lost their lives.
Speed was a factor in two out of every five fatalities in Donegal during the period studied and almost 28% of those killed were young men aged 17 to 24, says the report.
Assistant Garda Commissioner Kieran Kenny said 'Operation Face' had made a big difference by targeting specific drivers and the detection of a range of offences had increased significantly, including an increase of 82% in the detection of speeding offences.
Mr Brett said the Donegal Road Safety Working Group is one of the most active in the country and he hoped that other counties would learn from its experience.
The statistics show that Co Donegal accounted for 6% of fatalities in Ireland during the period examined, despite making up only 3.5% of the population.
Tags: