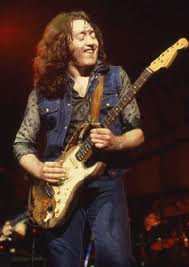 A TOURIST has vowed never to return to the Rory Gallagher festival in Ballyshannon, claiming this year's event was destroyed by drunks.
Liam L'Estrange from Belfast was one of a number of people who contacted donegaldaily to complain about the amount of drink being consumed over the weekend festival which honours the guitar hero.
Said Liam: "We arrived at about 1 o'clock on the Saturday and were appalled by the level of drunkeness on the street.
"It was an absolute freak show. Like 'Shaun Of The Dead' stuff. Drunks still sleeping off the night before on benches.
"It seemed that everyone had crates and boxes of beer on the street and the atmosphere was tense because of that."
He said he had brought his children to experience the atmosphere of a festival – but soon realised that was a mistake.
"My kids are very into their music (not Rory) but I wanted this to be their first festival," said Liam.
"Rory was my first ever gig at the Ulster Hall (in Belfast) in the early 70s. I have been to the festival twice before, last time was a few years ago and the atmosphere was great. Just a load of tourists, grey-haired hippies, student-types, families, bikers etc….
"So this was definitely not a family day out, (check Bestival in the UK) which was why I took my kids.
"The reason I would not go back is I can't see people changing their ways regarding the booze thing.
"The price of drink dictates that people will take cheaper options but unless you can control that, I don't see it being the positive event it deserves to be.
"It is, after all, in memory of a great man."
Another man who contacted us – who asked not to be named – said he was among a group of bikers who had been going to the festival for the past eight years.
But he added: "It's suppose to be about the music; but it's not anymore. It's about the drink and the atmosphere isn't fun anymore.
"We all like a drink – but last weekend everyone seemed to be just soaked."
We did contact organisers for a comment last night but so far we haven't received one.
Tags: