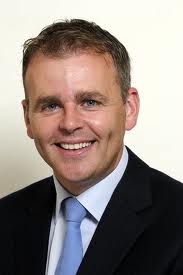 Fine Gael Deputy for Donegal North-East, Joe McHugh TD, has been appointed as the new Irish Co-Chairperson of the British Irish Parliamentary Assembly.
Deputy McHugh's appointment comes ahead of the 42nd plenary of the Assembly, which takes place Monday and Tuesday 13-14 June in the Rochestown Park Hotel, Cork.
Speaking today after his appointment by An Taoiseach as Co-Chairperson, Deputy Joe McHugh said: "The British-Irish Parliamentary Assembly must build on the symbolism of Queen Elizabeth II's recent visit to Ireland to develop real and practical commercial measures that will drive economic growth in Britain and Ireland.
"I will use my new position as Co-Chairperson of the British Irish Parliamentary Assembly to meaningfully harness the goodwill that the Royal visit has generated. Britain and Ireland must work very closely together at commercial and trade levels to overcome the severe economic difficulties facing our countries.
"Cross-community and cross-channel links offer Britain and Ireland a route out of recession, and I will be focused as Co-Chairperson on ensuring that the British Irish Parliamentary Assembly is a worthwhile vehicle for driving this agenda.
"The presence of An Taoiseach Enda Kenny at the British Irish Parliamentary Assembly plenary meeting next week is a real endorsement of the value of the Assembly and its potential for the coming years. I look forward to working with my counterpart Lord Cope of Berkeley though the challenging times ahead."
The plenary will be addressed on Monday morning by An Taoiseach, Enda Kenny TD who will discuss the plenary's theme of "Employment and Economic Recovery."
Other speakers will include Frank Daly, Chairman of the National Asset Management Agency, Frank Ryan, CEO of Enterprise Ireland, Peter Byrne, CEO of the newly formed British Irish Chamber of Commerce, and Niall Gibbons, CEO of Tourism Ireland. The Assembly will also discuss a motion on the murder of PSNI officer Ronan Kerr.
Tags: