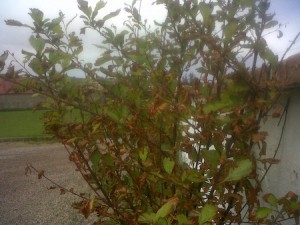 IT HAS been the talk of the county since May 23rd when a Force 10 storm lashed Donegal – the secret behind the autumn withering of our trees and plants.
It has now emerged that the storm named 'Udo' brought with it an unhealthy amount of….SALT!
Winds winds gusting up to 140 km/hr (90 mp/h) began around 3am on May 23.
But the time it calmed down 24 hours later trees in many areas had been uprooted.
However it also left another mark on our landscape.
New shoots and leaves on trees and hedgerows were left 'burned' – making many parts of the county look more like October than June.
It appears storm Udo was filled with sea salt – and that is the cause of our new autumn look.
Tags: