CHLOE Magee is the toast of the county today after winning the Lithuanian International Open today – and winning the mixed doubles with her brother Sam as well!
The brilliant Raphoe badmington star played an amazing 10 matches in just THREE days to claim both gold medals and it is now clear that the Donegal woman is on course for another Olympics….if she keeps playing like this.
After victory in the mixed match final with Sam, Chloe came back from 4 game points down in the second set to beat Ingolfsdoitter to take the singles title which she so richly deserves.
Afterwards, she said: "This has been an amazing week for me, I came here feeling very good and in good shape and to win both is just an unbelievable feeling.
"I want to thank all my friends and family at home for their continued support and now I want to test myself at a higher level against better players at higher completion levels."
Chloe has been training in Dublin – and needs to stay in the top 60 to qualify for the London Olympics next year.
"I am delighted to win my first title," she added.
"I'm feeling on top of the world."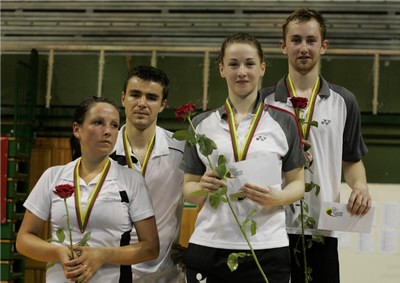 Tags: