This is the sickening scene after two savage German Shepherd dogs attacked a flock of sheep.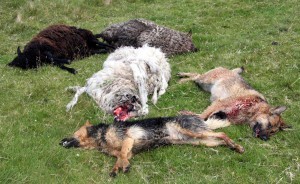 The bloody attack happened in broad daylight outside the West Donegal village of Annagry.
It is believed the dogs were straying in the area for some time before they set upon the sheep which were grazing in a local field.
Three of the sheep were mauled to death as others fled the attack which happened around midday yesterday.
A passing motorist witnessed the attack on the main Annagry to Crolly road and immediately contacted locals who contacted the owner of the sheep.
They rushed to the scene and another local man managed to shoot the out-of-control dogs with a legally-held firearm.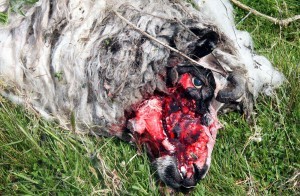 Gardai were alerted and arrived at the scene and began enquiries to locate the owners of the dogs.
Donegaldaily understands that Gardai have identified and spoken to owners and the matter is still under investigation.
German Shepherd's are one of ten breeds classified as a restricted dog breed in Ireland under the Control of Dogs Regulations 1998 that states they need strict control.
The act states that this breed of dog can't be in a public place unless securely muzzled and led by a strong chain or leash not exceeding two metres and by a person over sixteen who is capable of controlling the dog.
PICTURES BY KIND PERMISSION OF EOIN MCGARVEY
Ends
Tags: