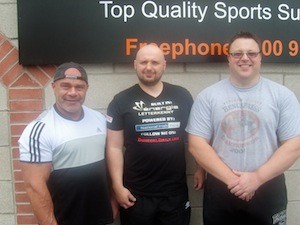 In his new regular column, THE ROAD TO ESTIONA, Mick Coleman logs the run-in to the European Press Bench Championships later this year….
"As I get ready for the european bench press championships a good friend of mine Ricky Mullan, a world champion powerlifter, invited me to train with him in a gym called the rockpit in lisburn a hardcore blood and guts gym as it's known.
There are two parts to the gym the weights side and a womens only gym next door but as many women use the weights side as the men they say they do it for a more intense workout something we encourage the female members of Energie Letterkenny to do.
"On the bench press front it was a good weights wise with me doing 152.5kg with a bench shirt on since then i have do 155kg raw and 157.5kg with the shirt on. My bench shirt is only a cheap one that really not helping me at all i will buy a top of the range one and it could give me an extra 15 to 20 kilo's on my bench. In the coming weeks i will be showing how the bench press uses every muscle in the body and not just the chest and arms.
BUILT IN ENERGIE LETTERKENNY / POWERED BY NATIONAL IRISH BANK / FOLLOW ME ON DONEGALDAILY.COM
Tags: