Donegal's rejuvenated forward Colm McFadden has warned that Donegal's semi-final against Tyrone will be a very different affair than their quarter final against Cavan.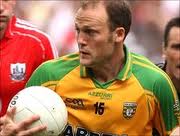 The St.Michael's man again contributed in no small way towards his team's win at Breffni Park taking five points from Donegal's 2-14 tally.
But McFadden warned "Tyrone will be a very different kettle of fish. They have the ability to take on and beat any team in Ireland on their day.
"But having said that we know we are good enough to beat them."
McFadden said he was most pleased at how Donegal regrouped after Michael Murphy's sending-off to dig in and notch the scores up.
"Hopefully the replay will show that Michael in a better light. He's certainly not a dirty player.
"I was pleased by how we kept our composure and got on with the task in hand. The two goals obviously put a seal on it but the lads put in a lot of hard work out there today," he said.
The Creeslough man said the team will certainly not be getting carried away having notched up two victories so far this campaign.
"We did what we were asked to do and that's all. It's just another game. We will take every game one at a time.
"We will sit down now with Jim and see how to approach the Tyrone game. We certainly won't get carried away," he said.
Ends