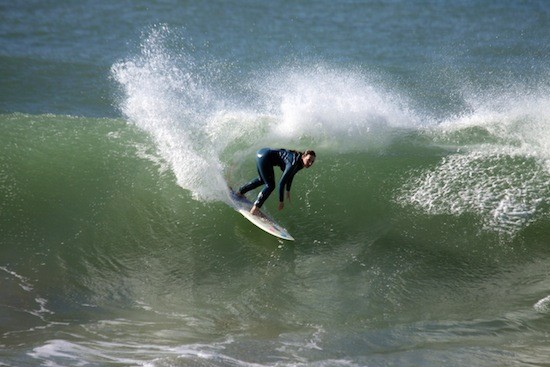 FIVE Donegal surfers have been selected for the Irish Surf team to represent the country when the European Surfing Championships "Eurosurf", supported by Fáilte Ireland, happen in Bundoran, from September 23rd until October 3rd this year.
Ronan Oertzen, 20, Shauna Ward, 24, Darragh McCarter, 25 and Richie Fitzgerald, 36 all from Bundoran and Easkey Britton, 25, from Rossnowlagh competed in a series of selection events in early 2011 in order to secure a place on the Irish national surf team.
Student Ronan Oertzen originally hails from Belfast but now calls Bundoran his home.  He will compete in the "Open" section of Eurosurf 2011 and comes with a wealth of competition experience having competed in Eurosurf 09 held in Jersey, Euro Juniors in 2008 where he was ranked 9th, Worlds '09 Open,  World Jrs '07 U18 ranked 61st and Inter-Celtics '06 U18 & Open.  He currently holds the title of Irish Student Champion and is looking forward to competing this September on his home break of The Peak .  He is sponsored by Xcel, Ocean & Earth and Dorrington Surfboards.
Shauna Ward is a Bundoran girl through and through and has been surfing since she was 6 years old.  This goofy footer first represented Ireland in the 2002 Euro Juniors where she finished an impressive 4th.  She is sponsored by Powersource, Protest and C-Skins and counts Bundoran's Peak as her favourite place to surf.  Shauna will be competing in the Women's division of Eurosurf.
Darragh McCarter is originally from Tyrone and now lives in Bundoran.  He works in his parent's business of furniture stores.  Darragh is no stranger to international competitions having been ranked 14th in Eurosurf 07 and was also crowned Irish National Champion in 2007 – not bad for someone who has only been surfing now for around 7 years. He will be competing in the Men's body boarding division of Eurosurf 2011 on his favourite surfing reef – the Peak in Bundoran.
Easkey Britton has surfing in her blood!  The Britton family are well known in surfing circles right around the country and indeed the world. As well as surfing the normal breaks around her beloved Rossnowlagh, this four times Irish women's champion has also recently become involved in "Big Wave Surfing" and recently competed in the Billabong competition held in nearby Mullaghmore, County Sligo as the only female big wave surfer!  She was nominated in the Girl's Performance Award in the Billabong XXL Big Wave awards for the same event.  Along with Shauna Ward, Easkey (named after that famous surf break in County Sligo), will compete in the women's surf division of Eurosurf 2011.  Easkey is sponsored by  Animal, Etnies, Surfplugs and JP Surfboards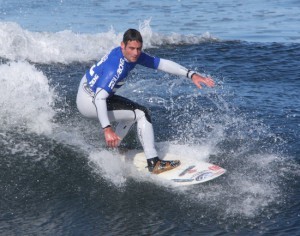 What can be said about Richie Fitzgerald?  Possibly Ireland's best known surfer and star of the surfing movie Waveriders.  Richie has been surfing in Bundoran for more years than he cares to remember and along with his family have helped promote the sport in both Bundoran and Ireland and firmly established it as a sport to be reckoned with.  Richie will be competing in the Masters division of Eurosurf.  He competed in Eurosurf 97 when it was held in Bundoran , the Euro Juniors in 1994 and the Worlds in 1994 and 1996. "It's a huge honour for me to be surfing for the Irish Team in EuroSurf 2011 on home turf in Bundoran, I can't wait for September" says Richie who is sponsored by Volkswagen, Vans, Billabong, C-Skins, and Northcore.
The other team members are Cain Kilcullen from Enniscrone, Shane Meehan from Strandhill, Stephen Kilfeather and  Ashleigh Smith from Sligo & Oliver O'Flaherty and Stephen Kelleher from Lahinch, County Clare.
One position remains to be filled on the team and the contest is between John Britton (JB) from Rossnowlagh and Keith O'Brien from Tramore.  A "surf-off" will take place at the Sea Sessions surf and music festival in Bundoran at the end of June to decide the final member of the Irish Surf team to compete at Eurosurf 2011.
The team will be coached by Pascal Devine, a native of Newtownstewart in County Tyrone and managed by Stevie Burns from Portrush, County Antrim – with over 40 years of surfing between them, they are well qualified to bring the team through their paces to compete against the best of Europe in September.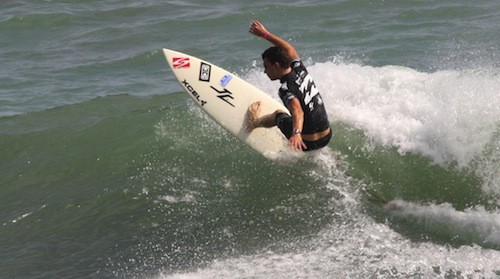 About Eurosurf 2011
The European Surfing Championships alternate each year between the senior event "Eurosurf" (odd years) and the Junior event "Eurojunior" (even years).  The separation into a junior event and senior event happened in 1992.  The Euro's were first held in 1970 in Jersey.  2011 will be Irelands 4th time to host Eurosurf, and 3rd time in Bundoran. The previous Eurosurf events held in Ireland were 1972 in Spanish Point, Co. Clare which was won by England, 1985 in Bundoran, Co. Donegal won by France, 1997 in Bundoran, Co. Donegal won by Portugal. Until recently there had been a trend that the winners in Ireland retained the senior title until the Eurosurf returned to Ireland. England held the title from 1970 to 1985, then France held it from 1985 to 1997 when Portugal won the senior title for the first time.  They then lost the title to Spain in 2003, who proceeded to relinquish it once more to Portugal in 2005. Portugal retained the title in 2007 before losing it to France two years ago in Jersey.
About the Irish Surfing Association
The Irish Surfing Association is the National Governing Body for the sport of surfing in the thirty two counties of Ireland. We are a voluntary organisation comprising of approximately twenty clubs and groups involved in the development, representation and regulation of surfing in Ireland. Representing surfing in many forms (shortboarding, longboarding, bodyboarding, kneeboarding, standup paddle surfing, skimboarding, body surfing and tow surfing) we are active in areas such as club development, training of coaches and judges, surf school approval, national and international competition, promotion of safety and protection of our surfing environment. The Irish Surfing Association is managed by an executive committee comprising of one representative from each of our member clubs. Our headquarters are located at Easkey Surf And Information Centre where we employ one full time development officer and one part time administrator.
Tags: