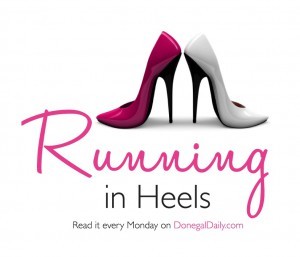 It's a short week following a bank holiday week and we are busy busy busy – losing a Monday throws us all up in the air as we battle to place ads, approve editorial and complete the design on a multitude of client's advertising campaigns.
We start the week with the final of our Media Box University courses – Marketing Toolkit – and got some great feedback! More MB University courses scheduled for the autumn so watch this space.
Not to mention the list of other things to do – websites live, 2 events this week, 2 new campaign launches and an MD planning a business trip.  Goodness how can it get any more frantic.
Just as well we have our heels on and we continue to run like hares!  So despite the so-called recession we launch, not one, but two GRAND giveaways.  Yes that's right – 1,000 euro folks.
Gallagher's Bakery, now back in the hands of its original founders, the Gallagher family, launched "Grab a Grand" which sees 20 golden tickets put in the new and improved white sliced pan.  One golden ticket holder each week will walk away 1,000 euro richer.
Then up in Inishowen Muff-based GDC Irl Ltd launches "Grand Giveaway" a campaign that will see one lucky couple or individual win a 1,000 euro booking deposit for a GDC dream home of their choice.
On Friday we welcome Special Olympics Eur/Asia CEO and Presidential candidate hopeful Mary Davis to Donegal.  Here to re-launch the fabulous Vestry café Mary spoke exclusively to Media Box FM about Special Olympics, the Cairde le Cheile Charity in Letterkenny and of course her ambitions to be the third Mary in Aras an Uachtaran. Catch those podcasts now on Media Box FM www.youtube.com/joannemediabox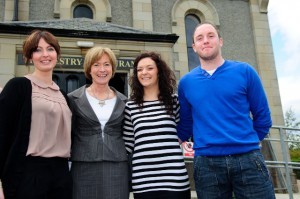 And here are the Media Box team meeting the wonderful Mary Davis – pictured with her are Corinne Temple, Erin Coyle and Ciaran Gallagher.
Phew what a week. So with the pressure on and the results being generated, you may ask us, 'what is the Media Box secret.'
Well it's simple.  And here it is – parked outside hanging in full glory outside the JSB office – "KEEP CALM AND CARRY ON."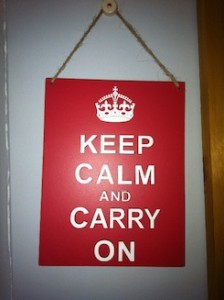 So with that note, we will run off to manage some more creative couture campaigns.
Until next week….keep running in heels!
The Media Box Team. X
Tags: