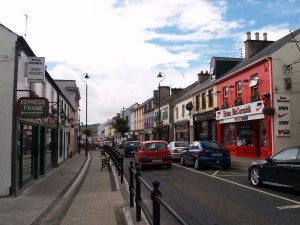 A heartbroken husband has told how his wife will 'never be the same woman' after she was savagely assaulted by a 14 year old boy who robbed her after his parents stopped his pocket-money.
Retired nurse Anna McDaid suffered horrific injuries after she was set upon by the boy in Letterkenny in August last year while walking to her local post office.
She suffered a broken arm, a dislocated shoulder and was knocked unconscious during the attack which happened in broad daylight at 5pm.
Her handbag, which contained €300, was stolen and found later without the money.
She was only found by a passer-by and had to spend nine days in hospital being treated for her injuries.
Speaking at Milford District Court today, Mrs McDaid's husband Joe revealed how his wife is still undergoing medical treatment and still only has 50% use of her left arm.
"She is trying to get on with her life but she will never be the same woman she was," he said simply.
Mrs McDaid's young attacker was before the courts to allow Judge Paul Kelly to hear the outcome of a probation report carried on the youth, who is now 15.
Solicitor Kieran Dillon told the court that the boy is now a completely different character and is sorry for what happened.
He has completed a home-schooling course and is due to begin a computer course with FAS.
"Nothing I can say will change what happened to Mrs McDaid and my client is deeply sorry for what he did.
"But this has been a life-changing incident for him. His attitude at home has changed completely and there is no defiance that he once showed to his parents.
"He is at a crossroads in his life and I would ask you to give him a chance," he said.
At an earlier sitting of the court Mr Dillon said the boy had been causing his parents all sorts of problems before the attack and had tried to discipline him by cutting off his pocket-money which proved disastrous.
"He came to Letterkenny and had something in his mind. He had no pocket-money because his parents had cut it because they were trying to control him.
"Mrs McDaid became the victim and he caused her the most serious difficulties possible. It was a purely random attack and Mrs McDaid was not targeted," he said.
Mr Dillon said he had tried to arrange a meeting to allow the boy to apologise to Mrs McDaid's face but she declined the offer.
He has given his victim €500 in compensation.
Judge Paul Kelly thanked Mr McDaid for coming to court and passed on his best wishes to Mr McDaid's wife Anna in her ongoing recovery.
The court also heard that the boy faced other charges of theft of alcohol from a supermarket and the unauthorized taking of a car to which he pleaded guilty.
"This is a catalogue of criminal behaviour over a four or five month period. I have to take into consideration the horrific injuries which Mrs McDaid has suffered and which will remain with her for a long time," he said.
He adjourned the case until September 12th for an updated probation report and said he was considering imposing 120 hours community service on the boy.
Tags: