ALL top chefs have egos – but it appears the success of Donegal chef Conrad Gallagher has irked a cookery rival.
The big Letterkenny chef was on the guest list for a 'Taste of Dublin' event last week to honour Myrtle Allen of Ballymaloe fame.
But Conrad failed to show up.
However one chef who did was Kevin Dundon of Dunbrody Country House Hotel….and he was vitriolic in his comments about Gallagher, host of a recent popular TV3 chef show.
Said Dundon: "He (Conrad Gallagher) has had a ridiculous amount of media coverage for a man who has left such a mess around him.
"I don't understand that and I've told him to his face.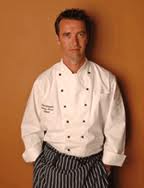 "He is a loveable rogue, but right now I am not speaking to him."
Gallagher has been a huge success again back in Ireland since leaving massive debts behind him in South Africa.
He has two restaurants – one in Dublin and one in Sligo.
Tags: