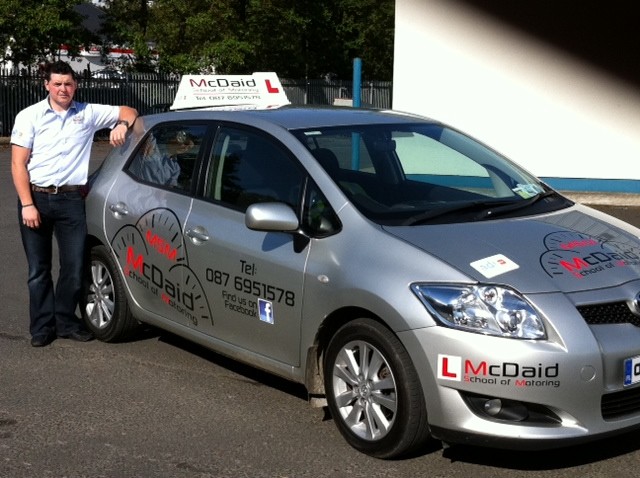 Manorcunningham man Danny McDaid knew he had to 'nail' a new career when the building boom dried up.
So the 24 year old former carpenter decided to go down a new road and has just become one of Ireland's youngest driving instructors.
The well-known Errity man has just set up McDaid School of Motoring and now he has some real direction in his life.
"I was a carpenter since I was sixteen and I really enjoyed it. But I knew I had two options when the recession hit and the building dried up.
"I could emigrate or I could try to find myself a new career. I love Donegal so I didn't want to leave.
"I always loved riving so I thought that might be an option," he said.
He signed up to complete a driving instructor's course with the well-known Swilly School of Motoring and has just received his instructor's badge.
With youth on his side, Danny said he is hoping he may attract business from a younger clientele but says he won't refuse anybody's business!
"I suppose a lot of younger people might relate to a younger instructor and that's fine by me. I know the kind of things that might make them nervous being a young driver so I will be able to sort those issues for them.
"But to be honest, I will take anybody for a lesson. Age isn't an issue for me and I don't think it will be for people looking for lessons either.
"I have got my car – a Toyota Yaris – all kitted out and it has dual controls so it's all ready to go. I'm just looking forward to working hard and helping people to get their tests and becoming responsible drivers themselves," said Danny.
Ends
Tags: