GARDAI are following a definite line of inquiry following an arson attack on a house in Lifford yesterday morning.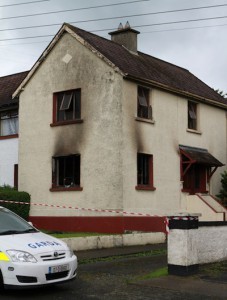 The unoccupied house on the Coneyburrow Road estate was gutted during a blaze which was spotted by neighbours around 7am.
It is believed the blaze was started by a teenage gang who had held a house party in the unoccupied dwelling.
The owners of the house, who use it occasionally as a holiday home, are believed to be devastated by the incident.
Locals believe teenage thugs broke into the house overnight and had held a party there before setting it on fire.
Garda forensic officers are at the scene which has been cordoned off.
A Garda source revealed that an investigation into the attack has turned up a couple of avenues of inquiry which are being pursued by local Gardai.
"It's fair to say that Gardai are completing a full investigation into this incident and have already uncovered a couple of good leads.
"A number of names have been suggested so it's fair to say that people will be interviewed in relation to the fire in time.
"Nobody has yet been questioned or arrested but Gardai will be looking to speak to a number of people about the matter," said the source.
Speaking to donegaldaily.com, a neighbour revealed that blaze had been discovered by a Leaving Certificate student who had been up early this morning preparing for exams.
"He got up early to do some studying when he smelled the smoke and raised the alarm," said the local man.
"Kids had been having a party in the house overnight. Thankfully no-one was hurt but this sort of carry-on is outrageous."
Gardai in Lifford are appealing for information about the fire.
Picture courtesy of newspixirl
Ends
Tags: